Taste the best Lebanese food & spirits in Arlington Va!
Mejana® ya Mejana®, a traditional folkloric song that touches the heart of the Lebanese cuisine and atmosphere!
As a result, offering you a selection of special dishes.
Therefore, our welcoming staff is always ready to serve you in both the indoor and outdoor section of the restaurant!
Lebanese Food.
First of all, our well-chosen menu is sure to please every good food lover.
Secondly, all our dishes are special in quality, presentation, and flavor. For instance, our dips:
Hommos or Hummus
Baba Ghanouj
Mhammara
However, those are just a small part of the healthy/vegan dips which deliciously add to our menu!
What are they?
Hommos: A dip made from well-cooked chickpeas blended with tahini, lemon juice, garlic and a touch of olive oil.
Baba Ghanouj: A dish of barbecued eggplant, mashed and mixed with pomegranate and olive oil. A pinch of traditional seasoning is added too!
Mhammara: A dip for the spicy-taste lovers. What's in it?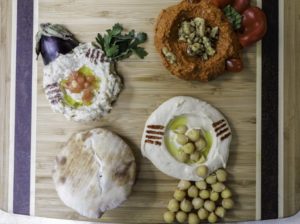 Check out our menu here
Arlington's Most Delicious Lebanese food!
Our chefs take pride in giving customers a flavor to remember, so, let us tell you how.
The refined recipes became unique due to many trials. Therefore, reaching the ideal taste in Lebanese cuisine.
Most importantly, it's a home-like ambiance with a never-ending smell of well-cooked food.
Including a variety of drinks of your choice.
Best Lebanese Spirits!
Furthermore, we offer traditional and local wines and a well-known Lebanese spirit "Arak", which, also, accompanies any mezza.
Above all, you should not miss our in-house made cocktails.
Mezza: A selection of Lebanese meals that can be considered as appetizers.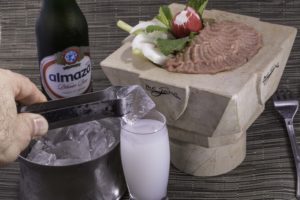 So, click here for beverages
Above all, our main courses are sure to satisfy all the choices.
However, our services don't end here! So, bring the taste of Me Jana into any:
Party
Event
Special occasion
by, certainly, using our well-organized full catering services.
As a result, customers are served the best Lebanese food in Arlington!
Finally, click here to view our full catering menu!